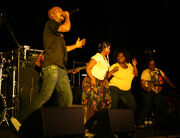 Kwaito is a style of music that originated around Soweto, South Africa in the early 1990s. It has been described as an "urban soup" of South African jazz and township pop, mixed with Western house and rap. It is also influenced by mbaqanga, dancehall, and disco music and carries a "four to the floor" disco/house beat. It draws musical influence from the U.S. and Europe, but also from local roots which can for example be heard in the use of synthesized marimba and in the use of Izibongo praise poetry. (1)
"It came from house, but we needed to put an African feel into it, so we added our own melodies, congas and basslines," said DJ and producer Oscar waRona. (3)
The lyrics are sung mostly in "Tsotsitaal" which is a mix of English, Zulu, Xhosa, Afrikaans and street slang spoken in the townships. (1)
"Here in Joburg we have such an integral culture. We can mix languages and still get a general gist of what someone's trying to say. We call it totsi taal." - Unathi Nkayi, YFM radio DJ and Kwaito performer (2)
Kwaito lyrics are often shouted, blabbered, and/or chanted. Most of the songs feature a call and response. The call is typically performed by males and the response by females.
The first Kwaito smash hit was Arthur Mafokate's 1993 song "Kaffir" which protested against the use of the racial slur against black South Africans. Mafokate has been called the "king of Kwaito" by local media. (3)
Kwaito has become a cultural phenomenon in South Africa. It's style is distinctive and one in which dress, appearance, language, ritual occasions, and styles of music form a unity which then defines the group's public identity. (4)
The floppy hat (Spotti) and canvas all-star sneakers have become a fashion staple for the Kwaito generation. The spotti was first worn during cricket games, which were historically played by the white-elite ruling class. Using the spotti as a symbol of Kwaito culture, mocks the previous ruling class. (4)
Kwaito is a musical genre that originated in the slums outside of Johannesburg, towards the end of the apartheid. This leads to the connotation that Kwaito is "ghetto music". It is almost impossible to separate Kwaito music from the political history of South Africa. Although many of the Kwaito artists are considered "bad boys" and "thugs", this can be seen as an overgeneralization. For instance, the famous Kwaito artist Zola, was appointed as the Goodwill Ambassador for UNICEF in 2006. Zola took his stage name from the area of Soweto where he grew up. But by taking the Zola name he is making the point that he comes from there, but he is also different. (5)
In 1998, the year South Africa participated in its first Soccer World Cup (6), Kwaito group TKZee's single "SHIBOBO" (meaning to shoot or dribble between someone's legs) became an instant hit selling over 100,000 copies. At the Soccer World Cup in France that year during a match against Denmark, South Africa scored its first ever World Cup goal. Incidentally, the type of goal made was a "shibobo," between the legs of the goalkeeper. (7)
Some of the most well known and popular Kwaito artists are: Arthur Mafokate, Zola, Brickz, Trompies, Bongo Maffin, BoomShaka
Sources
[
]
1. Mhlambi, Thokozani. "'Kwaitofabulous': The study of a South African urban genre." Journal of the Musical Arts in Africa, vol 1 (2004)
2. http://www.insideout.org/documentaries/kwaito/notebook_310.asp
3. http://www.bbc.co.uk/worldservice/africa/features/rhythms/southafrica.shtml
4. Swartz, Sharlene. "Is Kwaito South African Hip Hop?" The Youth Institute. 14 May (2003)
5. Lynskey, Dorian. "I saw blood on the street" Guardian. 16 March (2006).
6. "Soccer World Cup - History." http://www.cup2010.info/history/SoccerWorldCup_history.html
7. "TKZee: South Africa." http://www.music.org.za/Artist.asp?ID=120